Just a few random things:

* Recently found a new artist (new to me), Eddi Reader. She's got kind of a Celtic, folksy sound. Very easy to listen to. Check out my
myspace page
to hear one of her songs,
Bell, Book and Candle
. If you go and listen to it, I'd love to hear what you think. Oh and friend me while you're there, if you haven't already.
* I've decided that great books, keeper books, shall now be referred to as a DMV. Delicious Mind Vacation. Feel free to use that. (Ex. C.L. Wilson's Lord of the Fading Lands - definite DMV, the recently read Peeps by Scott Westerfeld, not so much.)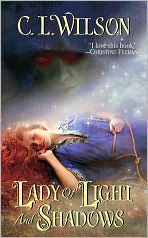 * Blog and ye shall receive. I am ECSTATIC to tell you that there is an ARC of C. L. Wilson's
Lady of Light and Shadows
on its way to me. Sometimes, it pays to express one's self. I'm also thrilled to tell you that C.L. Wilson will be our Author of the Month at
Romance Divas
this coming October! Woohoo!
* Tomorrow, tomorrow, I'm going to see Annie tomorrow! Myself,
Lara Santiago
, my sis-in-law and the niece are off for a girl's night of the
Cheesecake Factory
and Annie. Can't wait! It's a hard knock life, but somebody's got to live it.