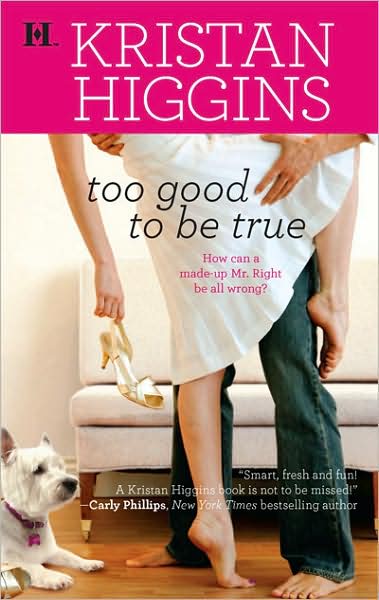 Instead of working on my edits Sunday afternoon after church like I was supposed to, I read. Because I had no choice. See, I started reading Too Good To Be True by Kristan Higgins and well, there was no putting it down. I mean, my beloved Cowboys played and I barely watched them. (Not that that game was worth watching, btw. C'mon, Romo, get it together or I may burn your jersey in effigy.)

It's rare a book makes me laugh out loud. I'm a tough audience, because while I frequently crack myself up (and let's be honest, everyone around me), others don't do it quite so often. This book however had some scenes that were gems. The seven stolen spoons? That one is priceless.

I sent to HQ to buy the digital backlist of Ms. Higgins (HQN), but they were sold out of Fools Rush In. Um, how do you sell out of an ebook? Harlequin, get with it. You lost a sale because of that nonsense.

Anyway, I can't recommend this book enough. The writing, the characters, the voice. It's a perfect 10. Do yourself a favor and buy it if you haven't read it yet. You won't be disappointed.