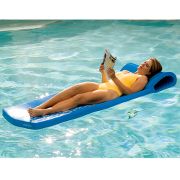 That's what I spent the day doing yesterday. Just floatin' and readin'... I didn't even work out! I did get a little pink for my efforts (or lack thereof) but I think by tomorrow it will have turned into a lovely golden tan. There's something so wonderful and soothing about floating. And reading. Combine the two and it's like chocolate and peanut butter. Really hard to beat.
After the previous day's adventure in the airport, I didn't have it in me to do much more. Hotrod felt the same way, although he somehow managed to find the strength to make it through 18 holes of golf. He's such a giver, that man.
Anyway, I'm reading Carl Hiaasen's Sick Puppy. It's not the
first Hiaasen book I've read by any means. I'm a fan of his work and it's such a nice change to read outside the genres I write. Hiaasen is a native Floridian and a huge environmentalist. To say he's not a fan of Disney would be putting it mildly. Pick up one of his books and you're guaranteed to find crazy characters doing whacked-out things in bizarre situations. His books are like vacations for your mind.
I'm almost finished with this book and it's really hard to stop reading. Maybe I'll do a little more floating today...
What's on your schedule?