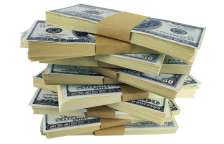 You're thinking, why is she posting after winning that fabulous Nigerian lottery?


Well, the shameful truth is... I've already blown the money.
Apparently my shopping addiction/ability far outweighs any of my other superpowers, and lo, the cash is gone. What did I buy you might ask? (So glad you did.) First of all, I bought a fabulous little island in the Pacific where I and all my minions (bought some of those, too) will be wiling away the leisure hours sipping Dr. Pepper floats and eating Godiva truffles (okay, we both know I'm not really going to share my Dr. Pepper floats or Godiva truffles with my minions, don't we?) and inviting all my friends to come and wile too.
The guestrooms are stocked and ready, the personal chef is planning some fabulous menus and the day spa is about to open its doors. Just two questions remain...what are you bringing to the party and what should I name this little irregularly shaped piece of heaven?
PS. The charter planes leave sharply at 4:59pm and only has room for two pieces of luggage each. Unless it's Louis
Vuitton
, and then inferior luggage will be tossed aside to provide extra space. Bring your sarong!