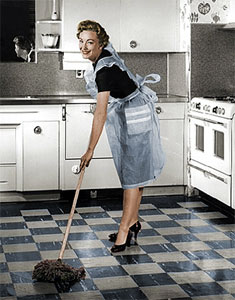 Today is that day. The day when I either have to clean the house or become utterly and officially shamed by the cat hair tumbleweeds rolling past me.

Cleaning is, well, let's just say it's not my forte. I do it, but with malice in my heart. And I'm not a good cleaner. I'm the kind who dusts around things as opposed to picking them up.
This results in the occasionally, but necessary, Big Clean. And that's where we are now. In need of the Big Clean. *sigh*
Adding to this need to clean is the fact that Hotrod comes home from his business trip today and I hate for him to come to a house that looks like it needs an intervention. So, after I set up my coffee IV and have a bowl of porridge, I will begin this arduous task. With malice in my heart. I will, however, be taking some solace in the calories burned. And of course, the happiness of the final product.
Do you hate to clean? Love it? (Sicko) Or do you have someone do it for you? I've tried that in the past, but I rarely find anyone who cleans any better than I do, so why not keep the money for myself and buy shoes?
Any words of cleaning wisdom?