Today is a magical day in blogger land! It's the one year anniversary of Publisher Weekly blogger Barbara Vey's
Beyond Her Book blog
! There are going to be giveaways galore - too numerous to mention really. Stop by and leave a comment to get your name in the hat. Don't forget to wish her happy anniversary! Barbara is lovely woman with a hugely generous spirit and a real love a romance. Definitely the kind of blogger we want to see around for many more years to come.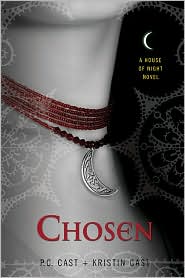 Now for the shout out to fab author and friend PC Cast on CHOSEN hitting the New York Times bestseller list! Way to go, PC and Kristin cast! This mother-daughter co-written YA series is smoking hot! Not to mention, the covers are magically delicious. Some how, PC always seems to end up with the kind of covers other authors only dream about.
And in other news, I am still not the high price hooker who brought down Governor Spitzer, no matter how many ways you google it. Seriously. Isn't that kind of yesterday's news anyway? Go feed your cat already.