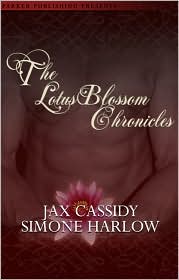 Hey y'all, Jax's first print book is out today! Can I get woohoo? Why not treat yourself and support a struggling writer. lol Honestly, buying her book would be a great way to not only support her but to also show your love for Romance Divas since Jax is my co-founder at that fabulous site. Oh - and don't forget to leave some lovely reviews at Barnes and Noble and Amazon when you're done, okay? We gotta get our girl some buzz!


In other news, did anyone catch Priscilla Presley on Dancing with the Stars last night? She didn't actually dance since last night was just the guys, but wow - does she have any functioning facial muscles left or have they all been sutured into submission? Yikes. She used to be hot. Now she looks like the Goth High Priestest of Botox.

Pay attention, kittens. This is a prime example of what not to do! Seriously. Okay, I'm off to fight aging in my own way. On the elliptical. Smooches!